Making The World More Beautiful One Mala at a Time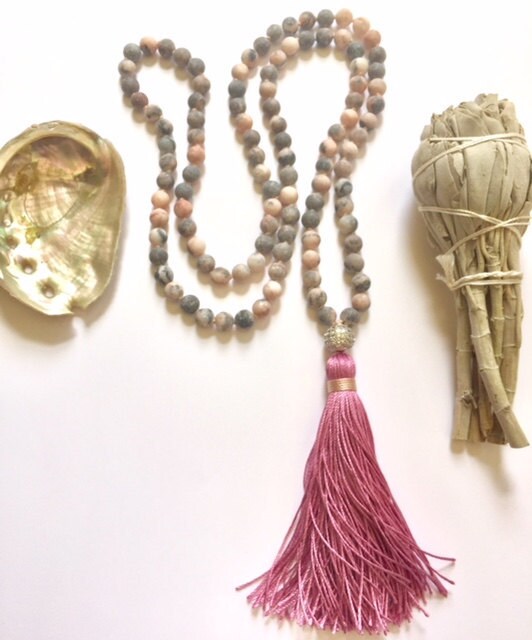 The Pink Zebra Jasper beads in The Mala for healing, are said to provide nurturing vibes.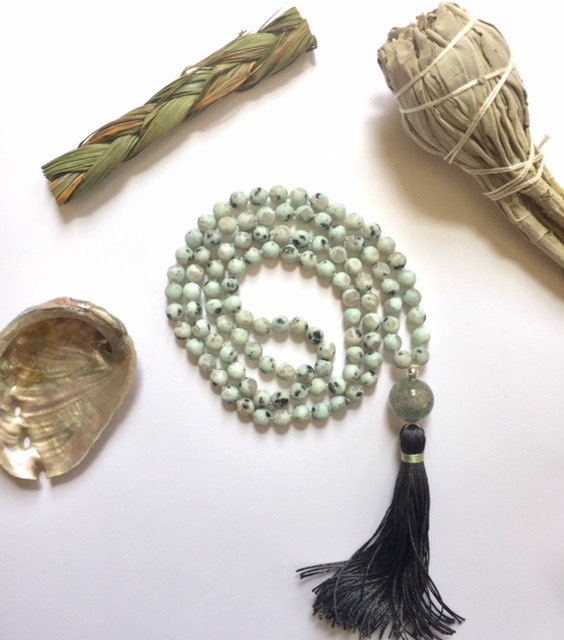 Kiwi Jasper and a Phantom Quartz Buddah Bead, make The Mala for Balance and Courage truly one of a kind!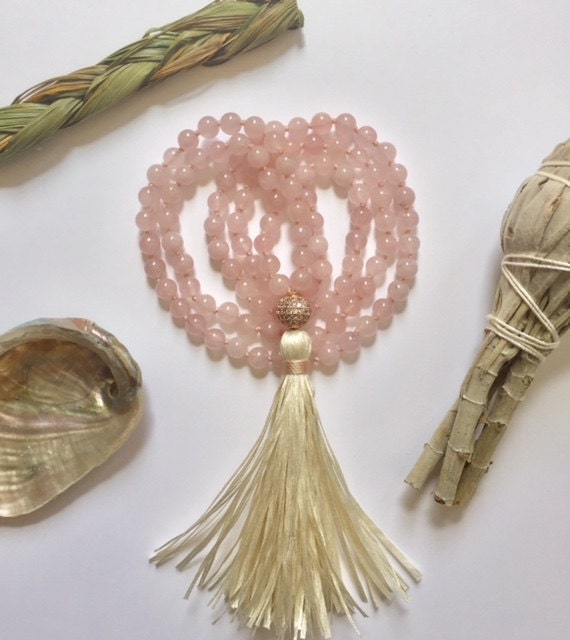 Rose Quartz and a Japanese silk serisian tassel, make this custom Mala a thing of beauty.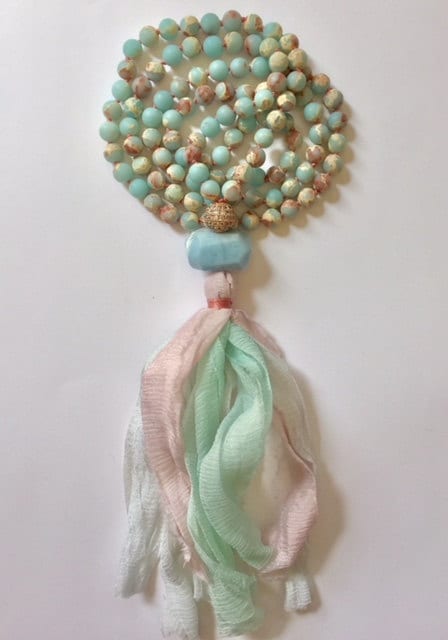 The Aqua Terra Jasper beads in The Mala for Peace and Harmony, resemble tiny little planet Earths!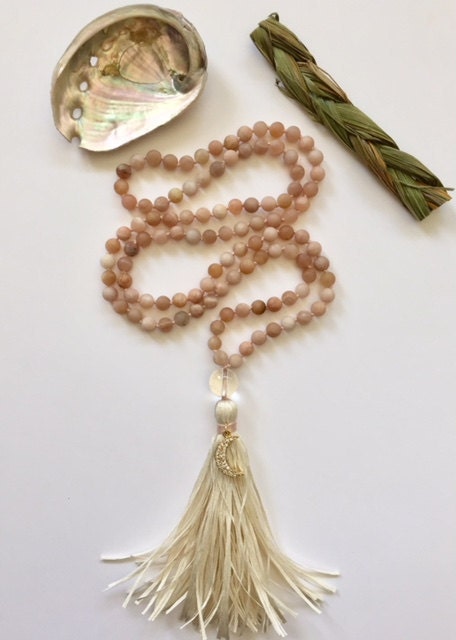 Made of Sunstone, The Half-Moon Mala was inspired by the Designer's favorite yoga pose!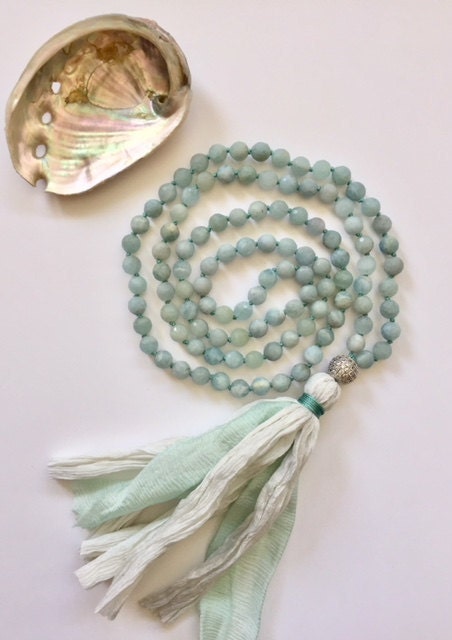 The serene Mala for Courage and Calm, made of Natural Aquamarine, resembles beautiful sea glass.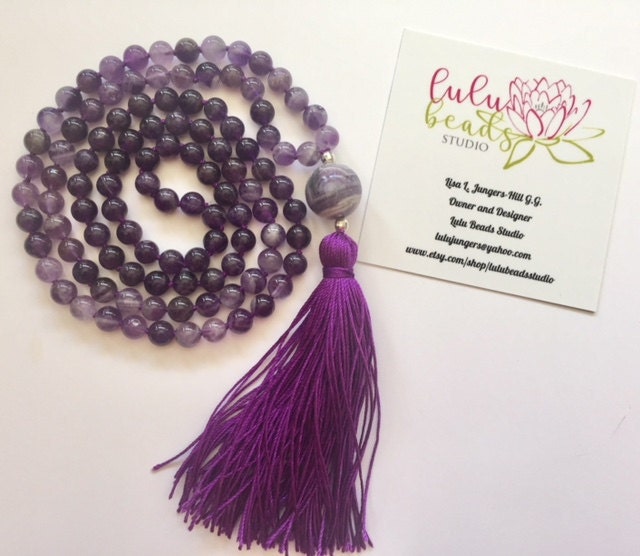 The "Just Breathe" Mala was a very special custom creation!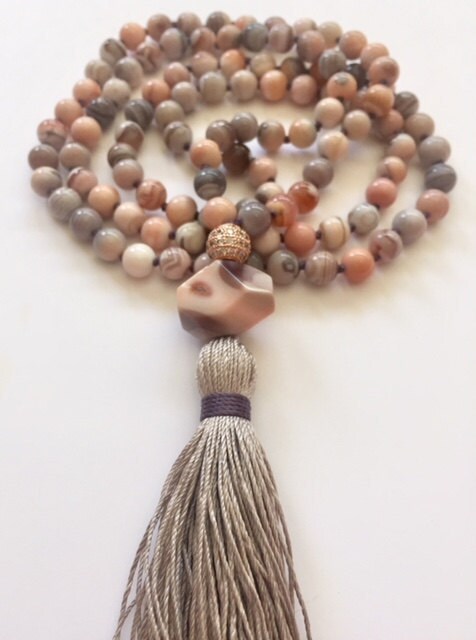 The Mala for Creativity is made of Pink Botswana Agate, stand out from the crowd with something truly unique!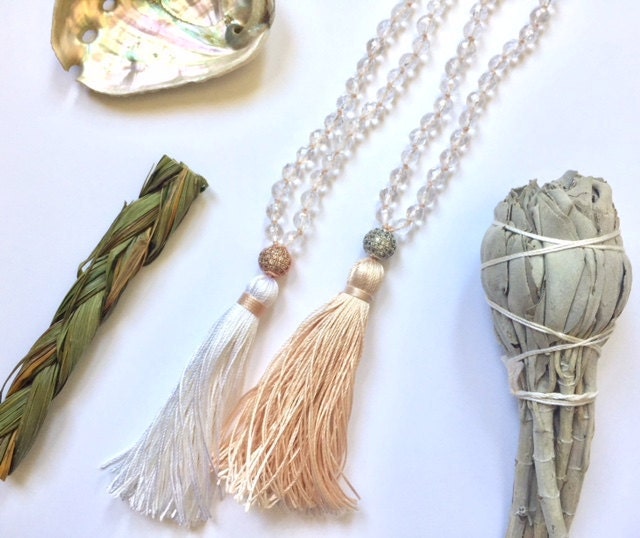 Blushing Bridal Quartz Malas are the perfect gift for any Bride or Bridesmaid!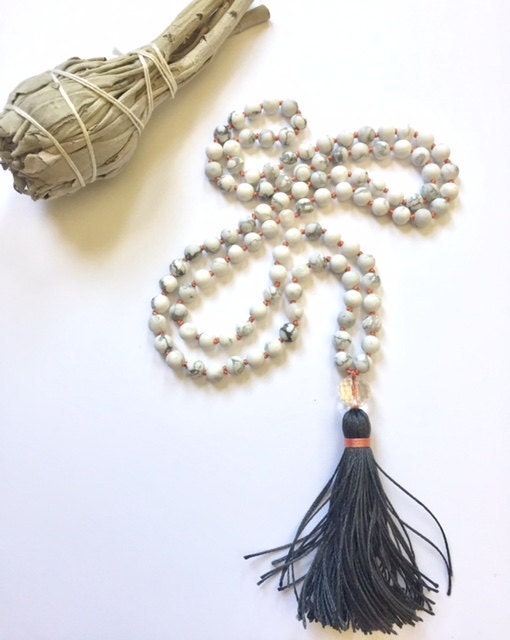 The Mala for Tranquility customized with vibrant tangerine silk thread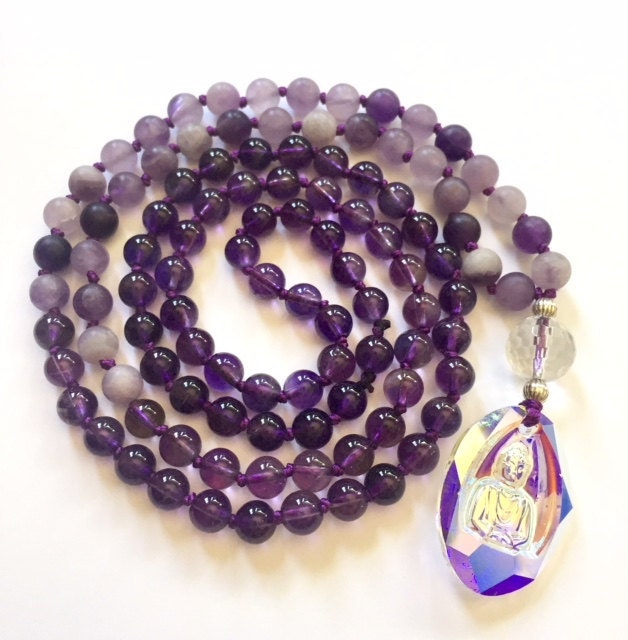 The Inner Guru Mala is a showstopper in Amethyst with a Swarovski Crystal Buddah amulet!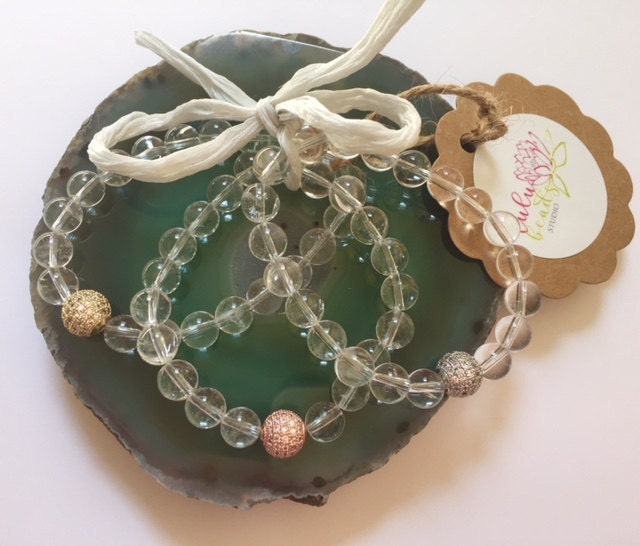 The Chakra Healing bracelets in Quartz are beautiful stacked!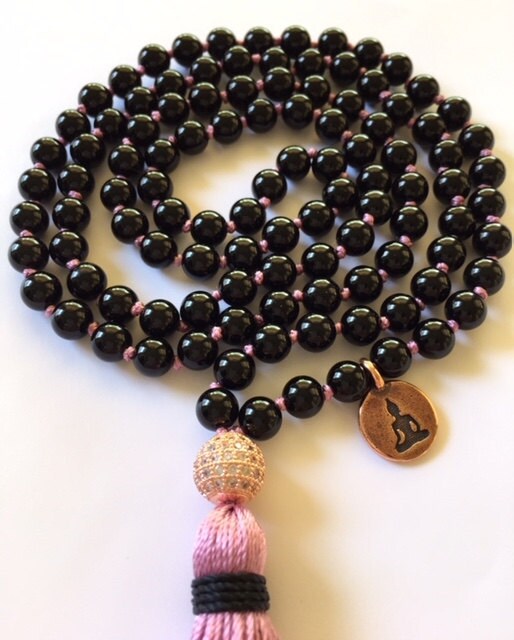 The Mala For Protection and Strength is made of Black Onyx accented beautifully with pink silk and a pave' Buddah Bead!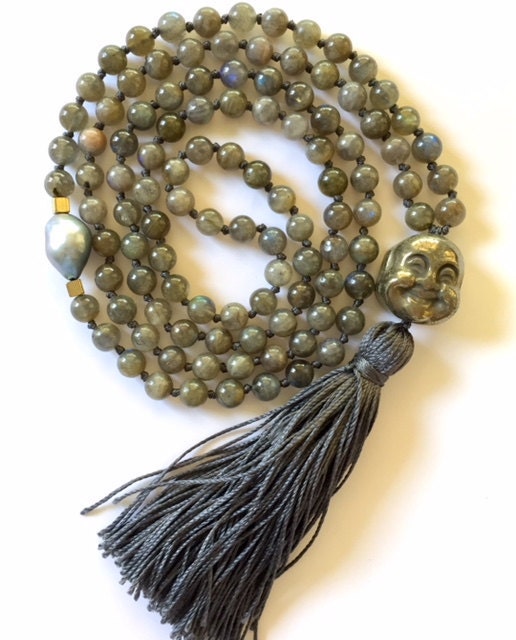 The Happy Buddah Mala of Transformation, is made of Labradorite with a gorgeous Black Tahitian Keshi Pearl accent!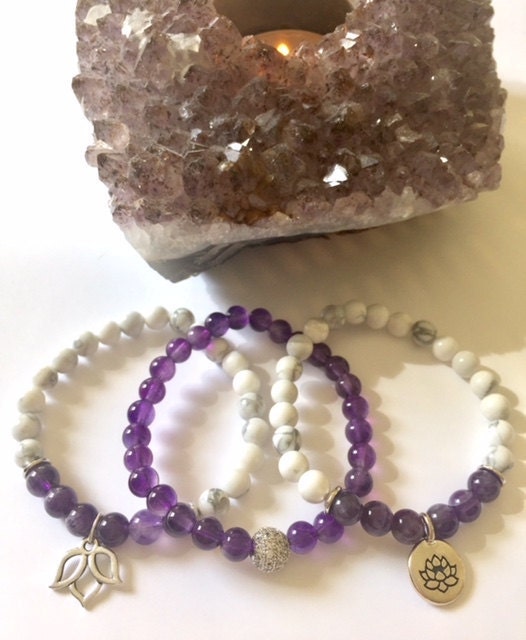 Custom bracelets made of Amethyst and Howlite, such a beautiful combination!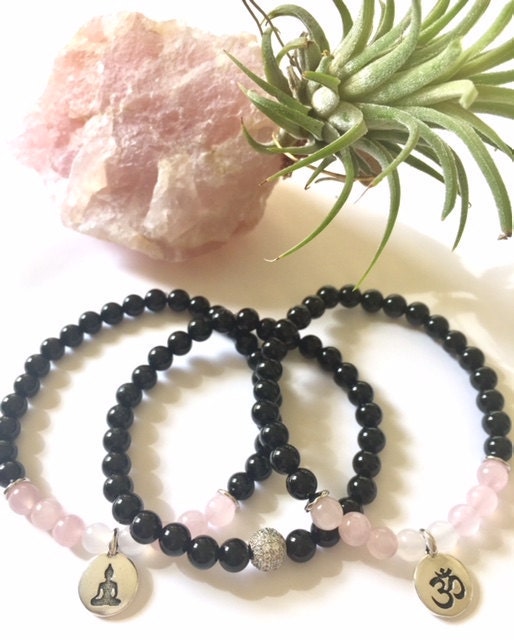 Beautiful and stackable bracelets made of Black Onyx and Rose Quartz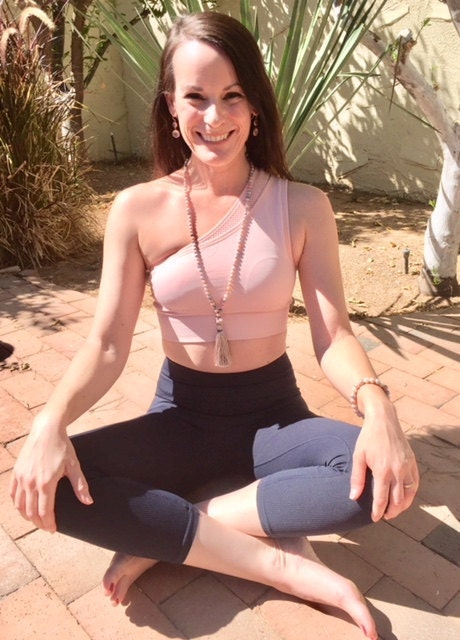 Lulu Beads Studio, Owner and Designer, Lisa L. Jungers-Hill, G.G.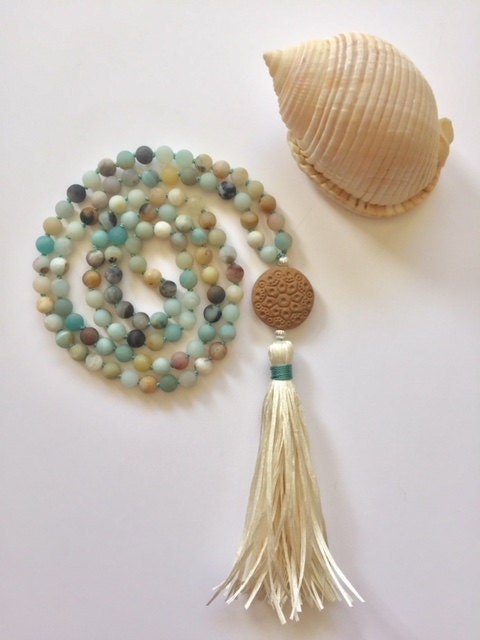 Part of The Essential Oil Diffuser Collection, The Calm, Cool and Courageous Mala is a perennial favorite with it's beautiful matte finish Amazonite beads.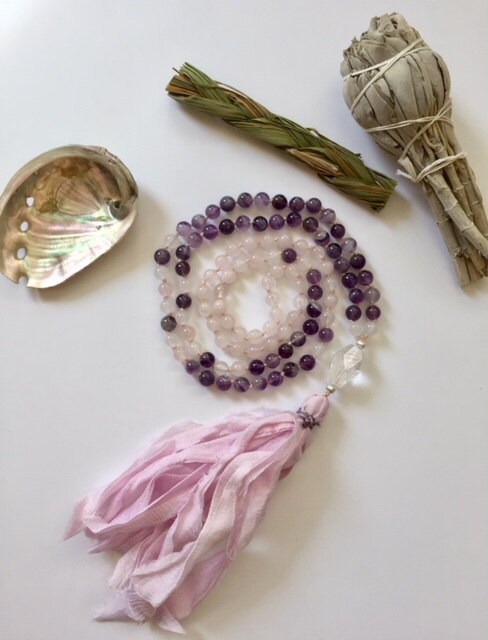 This lovely combination of Natural Banded Amethyst, Rose Quartz and White Agate brings great healing and intuition.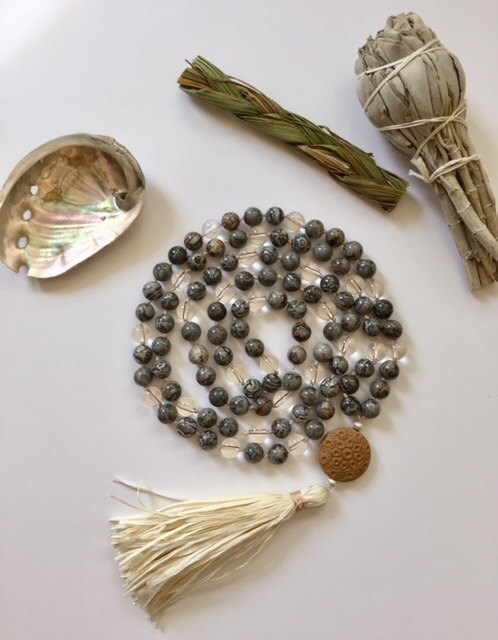 Part of The Essential Oil Diffuser Collection, The Mala for for Happiness and Confidence, features a terra cotta buddha bead, designed to diffuse you favorite essential oil with!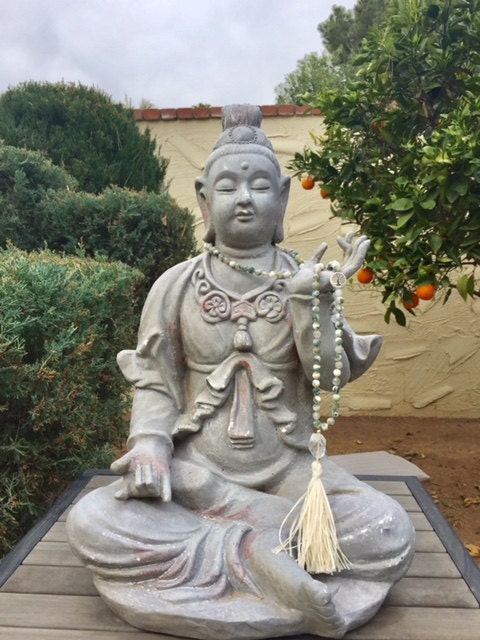 LuLu Beads Studio's Malas make this Buddah a happy Buddah!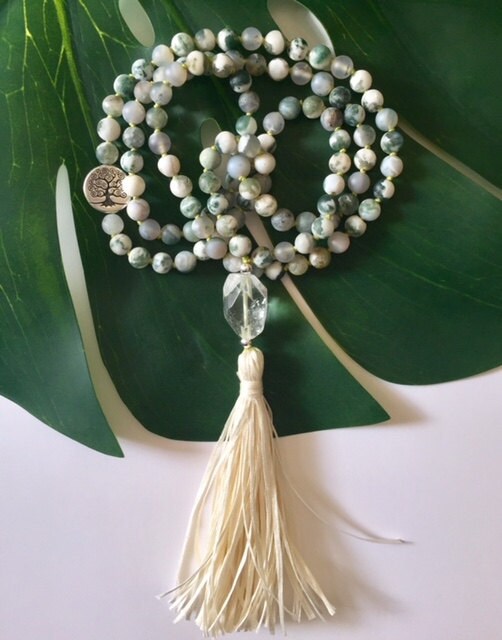 The Vrkasana Mala, made of Tree Agate, is accented perfectly with a hand made Japanese silk serisian tassel!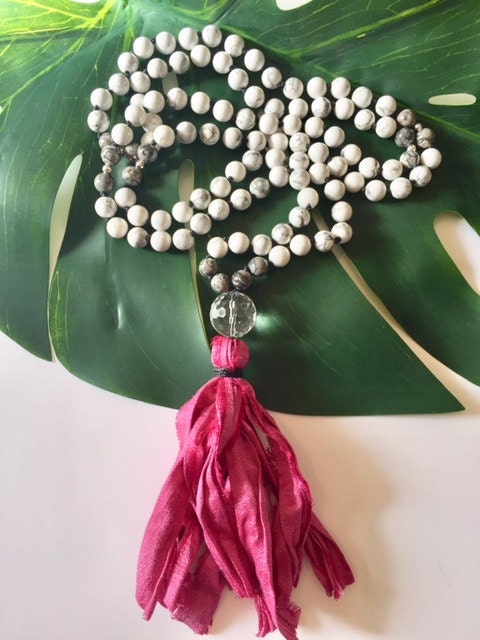 Howlite and Fuchsia recycled silk sari, make The Mala for Peace and Calm both beautiful and unique!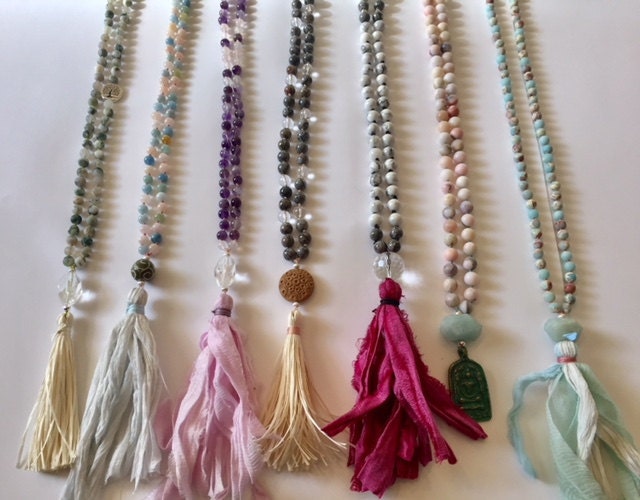 Part of The LuLu Beads Studio Collection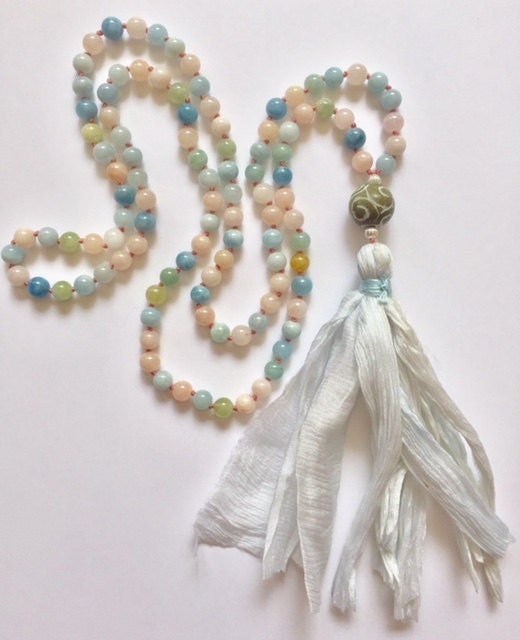 The Mala for Love and Marriage, Made of Morganite with a carved Jade Buddah bead, encourages loving thoughts and words!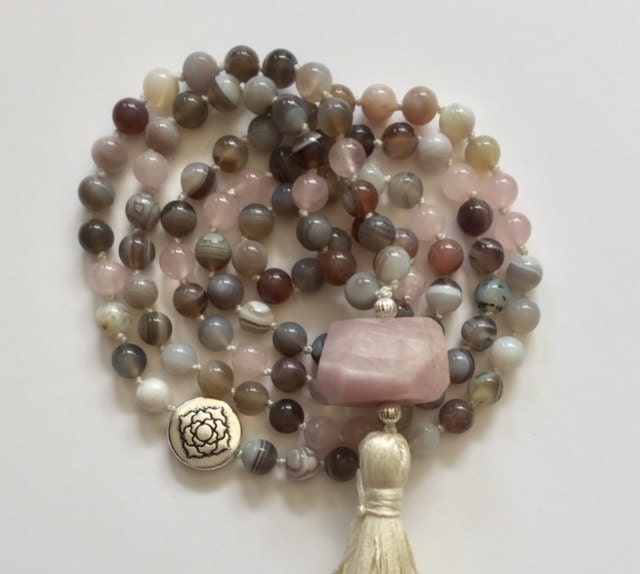 The stunning Mala for Creativity and an Open Heart is made of Rose Quartz and Botswana Agate.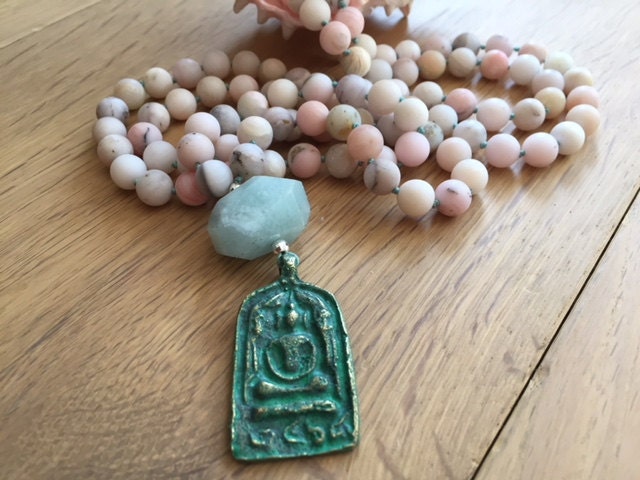 Beautiful Pink Peruvian Opal Mala with Natural Aquamarine Buddah bead and Buddah amulet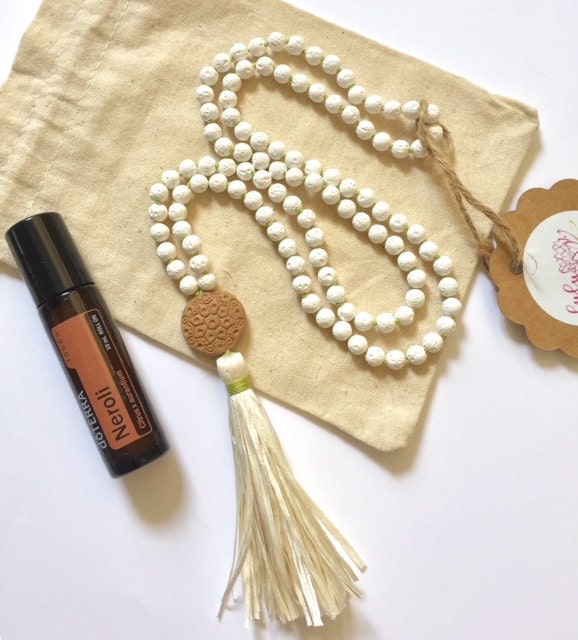 Part of The Essential Oil Diffuser Collection, The Mala for Grounding is made of White Lava! Diffuse your favorite essential oil during meditation or practice using the terra cotta oil diffuser Buddah bead.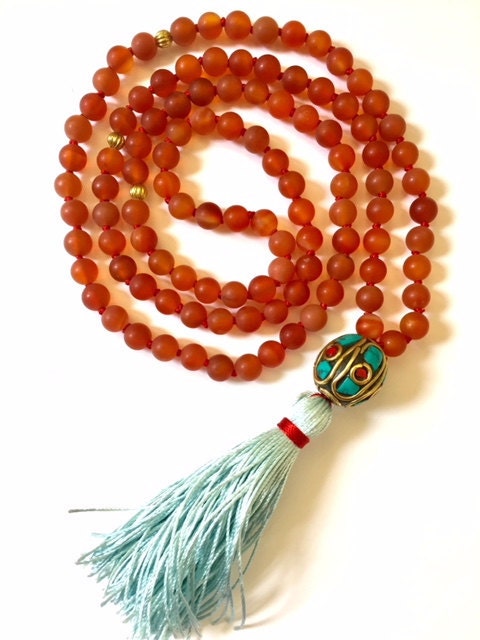 The Life Force Mala is made of beautiful matte finish Carnelian!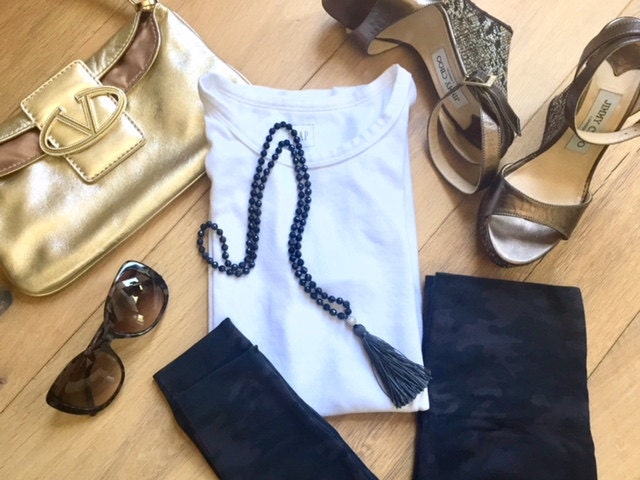 Mala Style, custom Sapphire Mala, price available on request.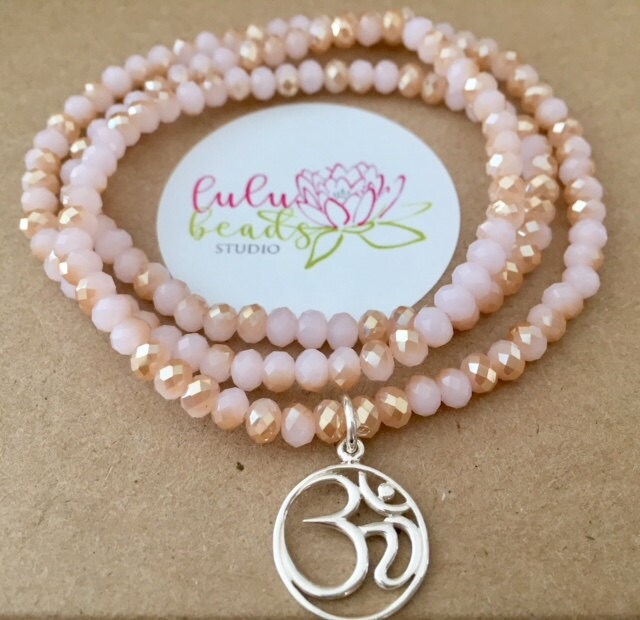 Tri-Wrap crystal bracelet with Sterling Siver "Om" charm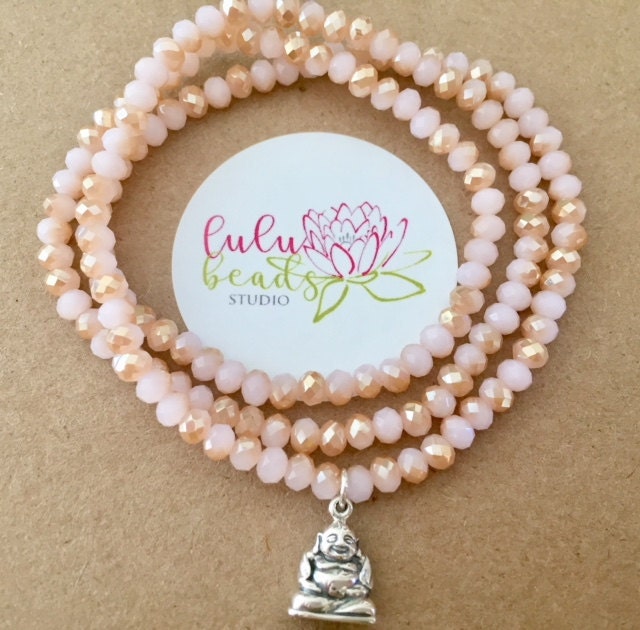 Tri-wrap crystal bracelet with Sterling Silver Buddah charm
Tri-Wrap crystal bracelet with Sterling Silver Namaste charm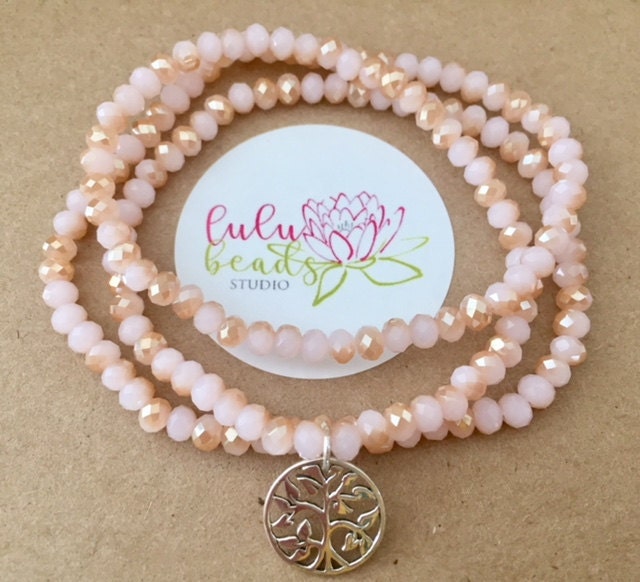 Tri-Wrap crystal bracelet with Sterling Silver Tree charm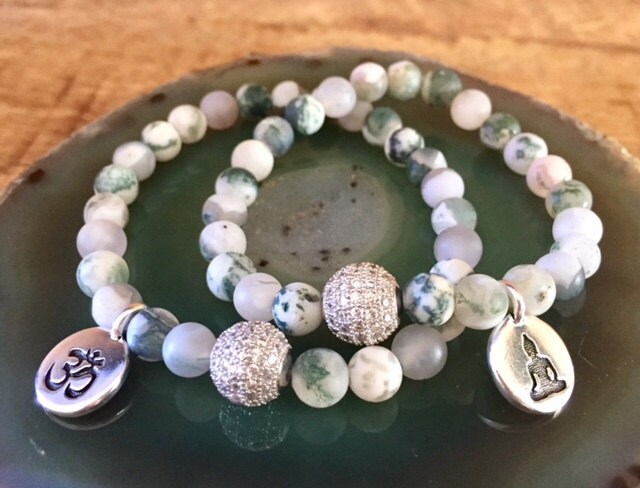 Custom Bracelets made of Tree Agate with white gold toned pave' CZ beads, Buddah and Om charm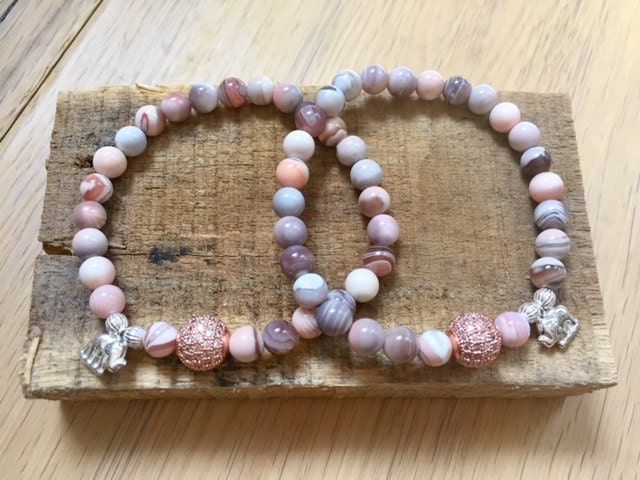 Custom Bracelets with Sterling Silver accents and rose tone pave' CZ beads